Eleven days ago the eye of Hurricane Harvey came ashore in Rockport Texas, and just a week ago, the rains stopped in the Houston region, while the then Tropical Storm Harvey kept going, devastating Beaumont and East Texas while heading into Louisiana.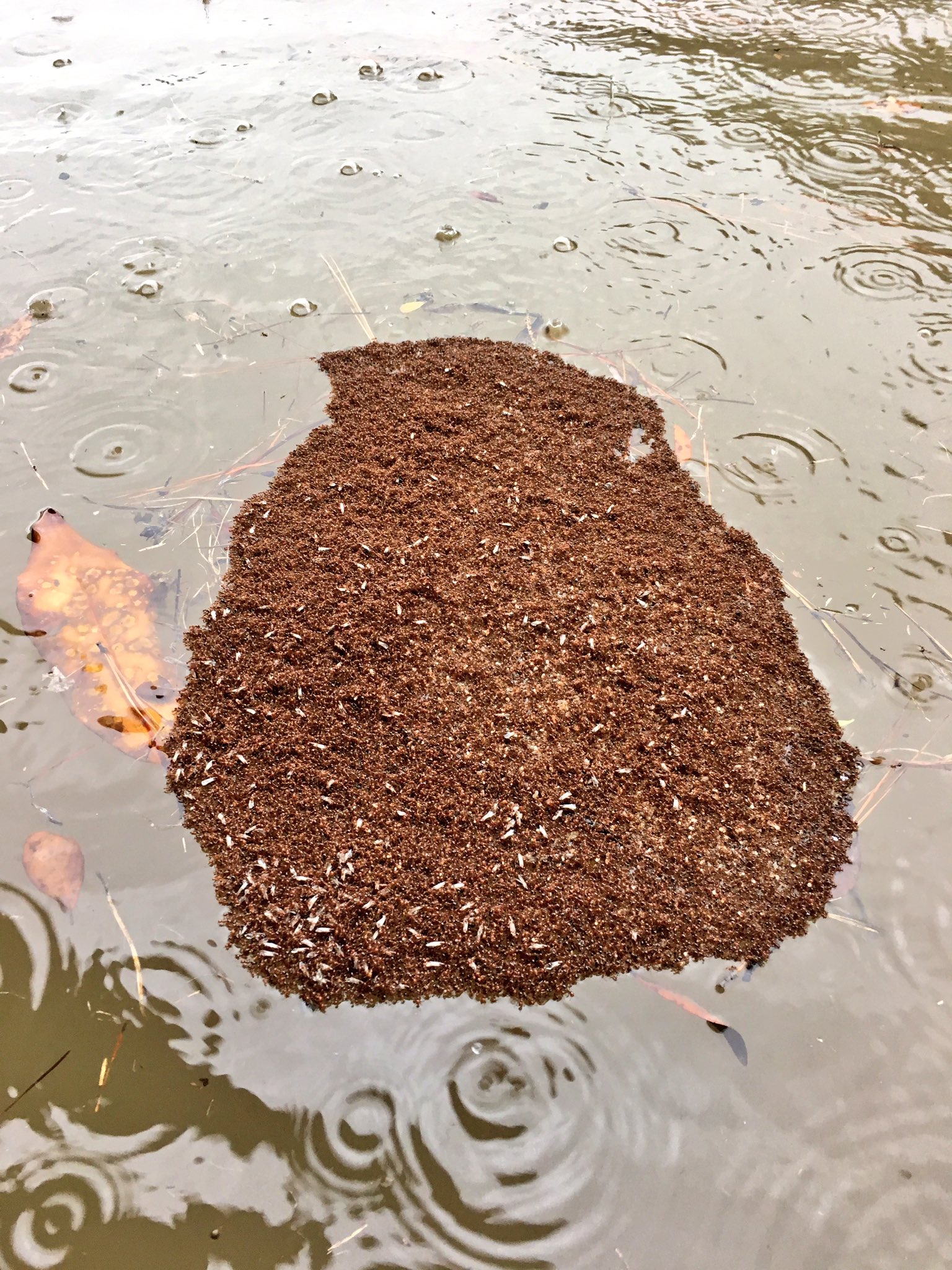 A flotilla of fire ants could survive for weeks on the buoyancy of Hot Takes on Hurricane Harvey that we've already seen. In the interest of providing a meta analysis of the Hot Takes, we thought we should compile this central list. Please feel free to add more in the comments and we will update as we go.
[This post was updated on September 10 to add all the new hot takes we could find, but first, please read and watch these love letters from the great City of New Orleans and the good people at Day for Night]
Pro-Zoning or Anti-Sprawl or Pro-Planning or Anti-Paving Over Wetlands
New York Times
How Houston's Growth Created the Perfect Flood Conditions
BuzzFeed
Houston's Urban Sprawl Meant Harvey Was A Disaster Waiting To Happen
Paul Krugman in Houston Chronicle
Bad policy fueled the catastrophe of Harvey
Eric Berger in Houston Chronicle
Five days of hellish rainfall must be a wake-up call to stop business as usual
The Atlantic
To Soften a Hurricane's Blow, Don't Drain the Swamp
Henry Grabar in Slate
Houston Wasn't Built for a Storm Like This
Steve Russell in Newsweek
Houston is drowning – in its freedom from regulations
Anti-Zoning or Pro-Libertarian or Pro-Business
Leo Linbeck III in the Houston Chronicle
Hurricane Harvey was not a catastrophe
StrongTowns
Houston Isn't Flooded Because of its Land Use Planning
Charles Marohn in National Review
Piling on Houston: Land Use Policies Not to Blame for Flooding
The Federalist
Stop Blaming Houston's Libertarian Zoning For Hurricane Harvey's Destruction
Center for Opportunity Urbanism
Texas Thou Hast Sinned
Phillip W. Magness in Houston Chronicle
Don't blame sprawl for Houston's floods
Emily Badger in New York Times
Is Houston Still a Model City? Its Supporters Aren't Backing Down
Scott Bayer in Forbes
Did Houston flood because of a lack of zoning?
Pro-Building Codes
Danny Samuels in OffCite
Harvey Musings: "Zoning made no difference. But stricter building codes did."
Mistakes Were Made Stories
Dallas Morning News
As Houston grew, officials ignored 'once-in-a-lifetime' chance to spare thousands from flooding
CBC News
Houston was warned it was a 'sitting duck' for major flood
Dr. Robert Bullard on Democracy Now
Houston's "Unrestrained Capitalism" Made Harvey "Catastrophe Waiting to Happen"
Texas Tribune
A year before Harvey, Houston-area flood control chief saw no "looming issues"
George Monbiot in the Guardian
Why are the crucial questions about Hurricane Harvey not being asked?
Awesome Stories About People Helping People and Dark Stories
ABC News
Fleet of monster trucks conducts rescues in flood-ravaged Texas
ABC13
Dear Houston – A Los Angeles reporter forever changed by your strength
Guardian
'We don't have anything': landlords demand rent on flooded Houston homes
USA Today
In small town, Harvey 'just a catastrophic citywide event'
Houston Chronicle
Harvey deaths held down by heeded warnings, rescues, luck
What next
Governor Greg Abbott in Houston Chronicle
Rebuild coastal areas to abate flood danger
CITYLAB
How Transit Can Speed Houston's Recovery
OffCite
An Optimistic Response to Harvey
Eric Berger in arsTECHNICA
This is probably the worst US flood storm ever, and I'll never be the same
Jim Schutze in Dallas Observer
Nation Should Invest in Houston — But Not the Way Texas Will Want to Do It
Nolan Gray in CITYLAB
Houston's Zoning Wasn't the Problem
Billy Fleming in the Guardian
The real villains in Harvey flood: urban sprawl and the politicians who allowed it
Richard Parker in Politico
How Harvey Will Change Texas
Quartz
A Texas Solution to Texas' Climate Change Problem
State Representative Gene Wu in Texas Tribune
Texas needs to tap Rainy Day Fund for Hurricane Harvey relief
Washington Post
'If they deport all of us, who will rebuild?' Undocumented workers could be key to Texas recovery.
Texas Tribune
Texas officials see long road from Harvey for state transportation network
Jim Blackburn of Rice Baker Institute
Hurricane/Tropical Storm Harvey: Policy Perspectives (pdf)
David Crossley in the Houston Tomorrow Newsletter
Harvey, a new standard for chaos
Lacy Johnson in the New York Times
It's the DACA Decision, Not Hurricane Harvey, That May Tear Houston Apart
Richard Florida and Jonathan Rose in CityLab
Houston's Big Opportunity for Better Urban Development
Slate
Why Texas May Not Be Equipped for the Recovery From Harvey
Dr. John Jacob in Watershed Texas by the Texas Coastal Watershed Program of Texas A&M
Above all, elevate!
Houston Matters on Houston Public Media
How And Where Will Greater Houston Rebuild, Post-Harvey?
Houston Chronicle
Government faces suit over Addicks and Barker dam releases
Rivard Report
San Antonio Leaders Mull Strategies to Avoid Flood Disaster
Dallas Morning News Editorial Board
Why Dallas must use Hurricane Harvey as a catalyst for responsible growth
Pre-Harvey Takes Making the Rounds
ProPublica / Texas Tribune
Boomtown, Flood Town
Michael F. Bloom P.E.
A Response to "Boomtown, Flood Town"
Jay Blazek Crossley in Houston Chronicle's Gray Matters
Stop Building Neighborhoods That Make Other Neighborhoods Flood

The Inverse Condemnation Thing
Raizner Slania LLP
Inverse Condemnation Rights: Important Information for Homeowners Flooded after the Houston Addicks and Barker Dam Releases
Texas Condemnation
Flooded by the Government: Does Intentional Flooding Amount to a Compensable Taking?
About Post Author